Leadership Evolution at Hartung Glass Industries: Nick David Sciola Appointed CEO of Company and our current CEO, Nick Sciola Sr., will assume the role of Executive Chairman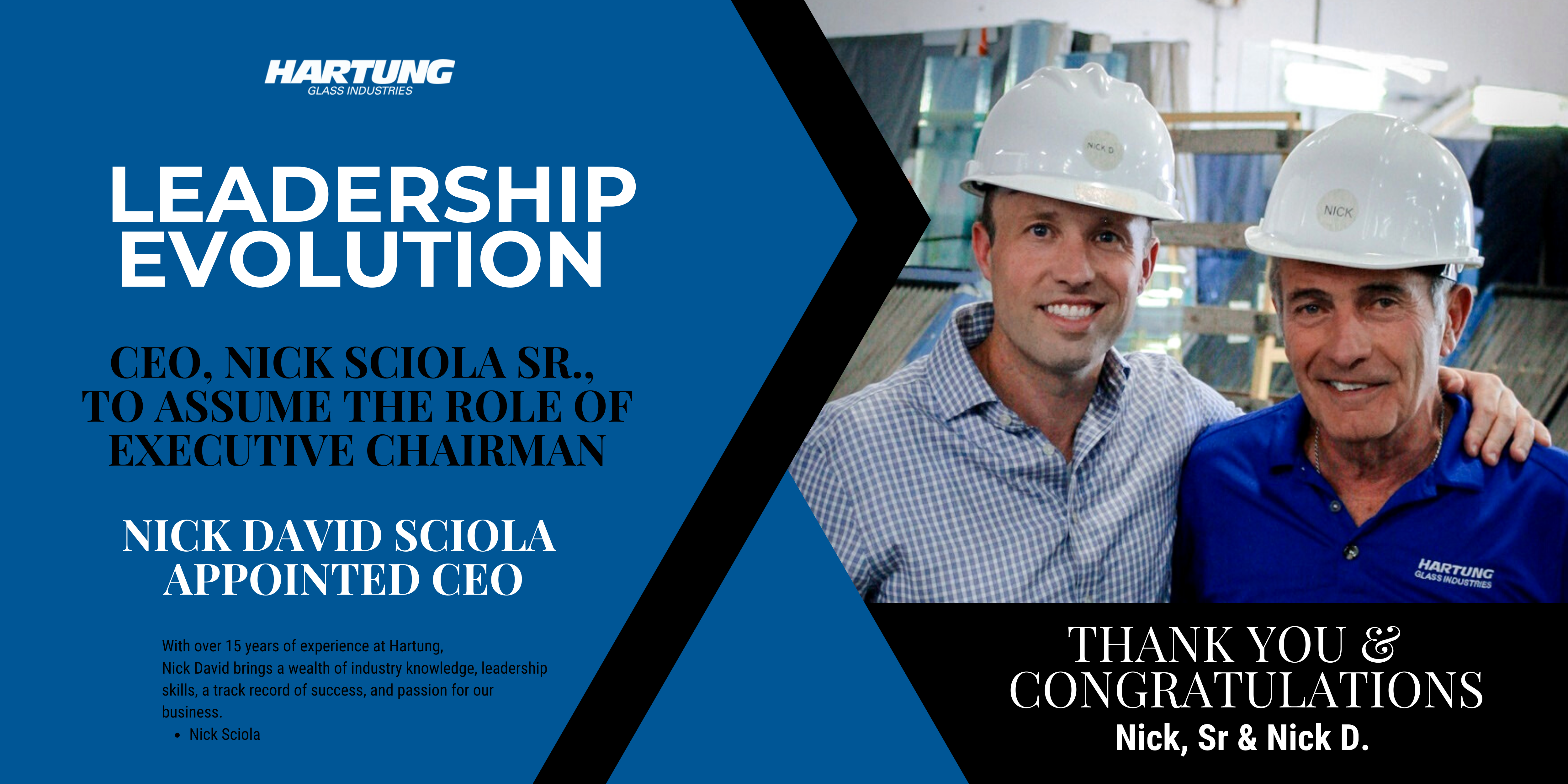 Nick Sciola
Executive Chairman
Hartung Glass Industry
info@Hartung-Glass.com



Tukwila, WA. June 1, 2023 – Hartung is pleased to announce a pivotal moment in the evolution of our company. After 35 years of spearheading our company's progression, I will be transitioning to the role of Executive Chairman of the Board effective June 1, 2023. In parallel, we are delighted to announce that Nick David Sciola will be taking the helm as Chief Executive Officer, in addition to his current responsibilities as President.

The privilege to lead this incredible team in our journey has been the opportunity of a lifetime. Since Pattie and I acquired F. L. Hartung Glass in the mid-1980s, we have grown from a small glass distribution and shower door company in Ballard, Washington, to the largest independent custom glass fabricator in North America with nine flourishing locations and a team of over 920 dedicated employees.

This impressive expansion and enduring success are a testament to our remarkable leadership teams, our diligent and esteemed employees, and Blessings we've gratefully received. I remain deeply committed to the well-being of our employees and customers, a philosophy that will continue under the stewardship of our new CEO, Nick David, and his team.

Please join me in extending heartfelt congratulations to Nick David on this well-deserved promotion. With over 15 years of experience at Hartung, Nick David brings a wealth of industry knowledge, leadership skills, a track record of success, and passion for our business. He has adeptly steered our Sales, Marketing, Operations, Technology, HR, and Accounting departments as President, and played a pivotal role in achieving the best financial results in our history in 2022. I am confident that under his leadership, Hartung Glass will continue on its trajectory of success.

Hartung Glass Industries, North America's largest independent custom glass fabricator with 9 locations across US & Canada, proudly celebrates 99 years of delivering high-performance glass solutions. With a proven track record of exceptional manufacturing expertise, dependable service, and quality products, Hartung offers a comprehensive range of glass solutions to meet the unique needs of its customers. As a trusted leader in the industry, Hartung Glass Industries remains committed to providing innovative glass solutions to enhance design and functionality. For more information on Hartung, please visit Hartung-Glass.com.